DeMar DeRozan on frustration with NBA's 113-page handbook for Orlando (Most notably playing doubles ping pong!)
Panel:
Second Half Only:
---
First Half
Inmate backed by Maya Moore released from Missouri prison
The WNBA star, who put her career on hold in 2019, helped Jonathan Irons, an innocent man who was freed on Wednesday after being convicted on burglary and assault charges back in 1998
Via ABC's "Good Morning America":
If you're unfamiliar with this story, click here
"This is beautiful. This is everything. She set the bar for everybody, including myself on whether I'm doing enough out in the community and standing for what's right" – Perkins
"She's a definition of a role model. There should be an award created to be named after her because that would encourage others to follow in her footsteps" – Windhorst
"We are talking about Jonathan Irons because she was involved in his case, because of the platform she has in basketball and we owe it to her and the work she did to recognize that there are so many others out there like him who were railroaded by a system that was biased against them. All of us Americans should thank her. This is what we want. This is fairness" – Nichols
NBA, NBPA announce coronvirus test results (7% of players have tested positive)
"This release to me wasn't so much about the players. I was extremely relieved to see that only 10 of those over 800 people tested of the staff and the coaches came back positive. That is the higher risk group that has to follow the rules more tightly" – Windhorst
"The NBA and Adam Silver put together a pretty good plan. They're doing a great job the best that they could do because there's no real solution" – Perkins
Zion: "I haven't felt like a teenager in a long time"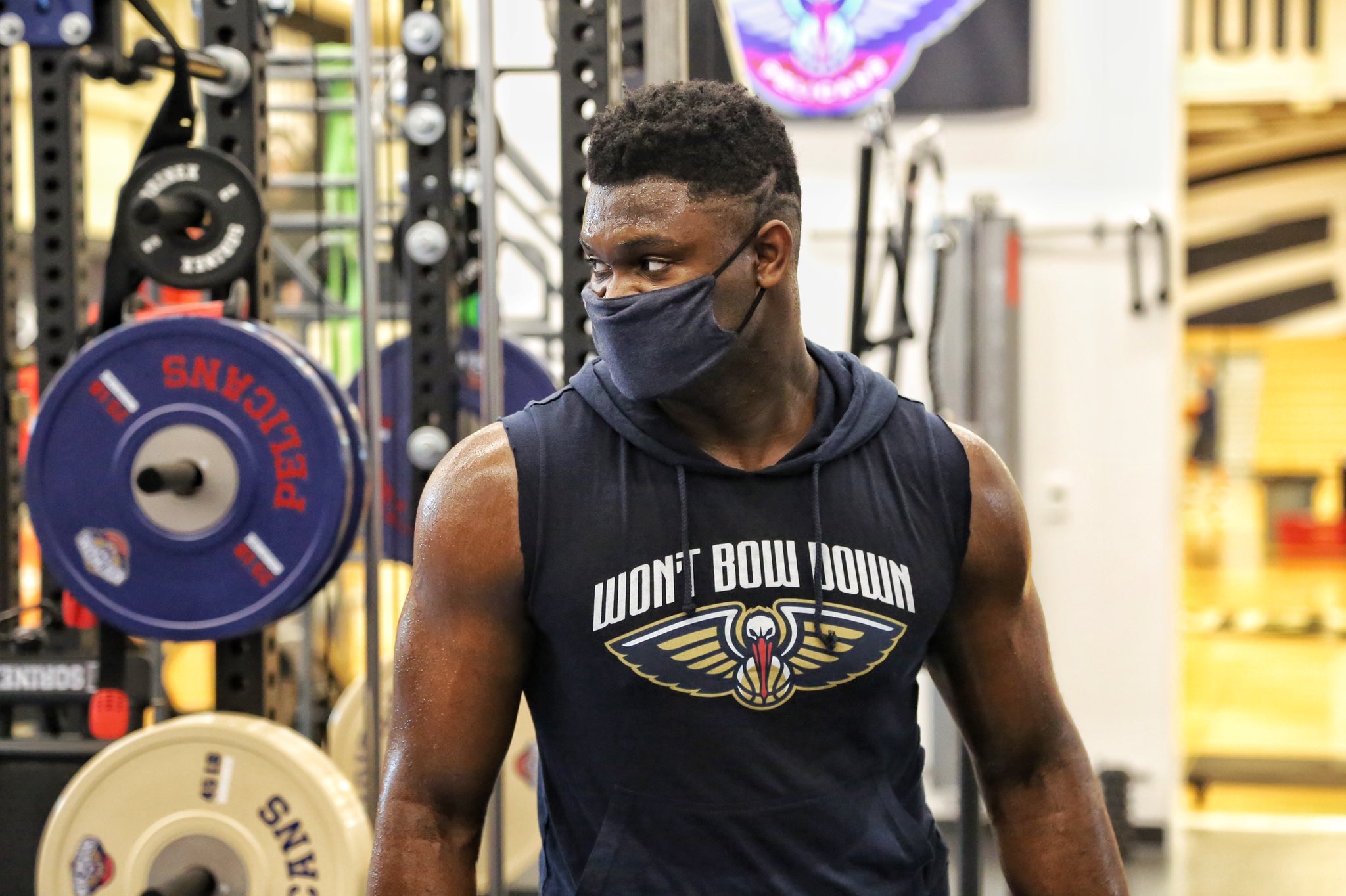 "He is a man. He's been very mature since high school and he's been working his behind off. This guy is taking his profession very seriously. Zion is the future face of the NBA" – Perkins
"He said he had worked out on the court almost every single day of the quarantine and it shows that he's in really good shape. In this unique moment, if he's dominant and gets into the 8th seed, we could reopen the Rookie of The Year debate" – Windhorst
JA Morant says he's added 12 pounds of muscle during hiatus
"This is kind of like his second season. He got an off season to do that conditioning. He's gonna defend that ROY trophy that he pretty much had cinched up and now has to kind of win it again to lock it down" – Windhorst
"The Grizzlies should be proud and jumping for joy. For him to take advantage during this pandemic, that speaks volumes. It shows me that his leadership skills are there, he's dedicated, he's willing to sacrifice and that he is a winner" – Perkins
"JA Morant walked into the NBA stunned by nobody and scared of nobody and that is continuing" – Nichols
---
Continuing the countdown to the restart of the NBA season, here is #28:
---
Vince Carter in video games from his first season to his last season:
this was how long Vince Carter's career was pic.twitter.com/VH7CM4AQkS

— 𝐿𝓊𝓃𝒶  (@Lunagrinds) June 27, 2020
Let's…
Perk on whether he was ever dunked on by Vince Carter:
"When I saw the best in-game dunker ever coming down the lane, I moved out of the way and stayed on my man. I never got on the Vince Carter poster"
Really? Well…will get to this later!
---
Rick Carlisle: Coaches won't be "Red-flagged" from going to Orlando based on age alone
Via Tim MacMahon/ESPN:
"We've been assured by the league that no one will be red-flagged from going to Orlando based on age alone" – Rick Carlisle
"Last time I checked with the league, they didn't say everybody was going. It's an ongoing medical process. That sounds to me like there's possibility that somebody may get flagged. I think it's good that they say no age, which is not the only issue because if they hadn't, it's a potential legal problem and there could be a lawsuit involved" – Windhorst
"Let the coaches go [to Orlando]. They'll be safer than being in their own homes. They're going down to a billion dollar nursing home!" – Perkins
"Age alone is so important because it tells people they will be not discriminated against just on the basis of age" – Nichols
---

2008 – Relocation of the Seattle Supersonics to become the…
---
Second Half
Importance of a healthy Ben Simmons for Sixers?
76ers head coach, Brett Brown:
"The big thing is, when you think about the most ideal version of the Philadelphia 76ers, It's a team that can beat you in the open court and a team that can beat you in the halfcourt. The halfcourt part is Embiid land, but the open court is more electrifying with Ben Simmons. Defensively, he's so versatile. We don't talk enough about his defense. He's one of the best defenders we have in this league" – Elhassan
"It's huge for them that he is one-hundred percent healthy. Would that make them a championship team? No. His defense is so underrated that in my eyes, he should be in the talks for Defensive Player of The Year" – Perkins
"One word: Pilates. That's what he's been doing every single day since the shutdown. He's also added weight. Does Pilates help with the jumper? That's what I want to know. In a playoff setting (a series), teams are not going to guard him in the halfcourt and Ben needs to break that" – Windhorst
Dame Lillard not confident in players sticking to protocols in Orlando bubble
Practice courts being built in Orlando, which are their actual courts from home:
Laying down the practice floors!

NBA Restart begins July 30th with daily & nightly games on ESPN, TNT, ABC, NBA TV & NBA League Pass! #WholeNewGame pic.twitter.com/whbSl8iqsy

— NBA (@NBA) July 2, 2020
"I don't agree with him on this one. When you're on a championship contender and competing for a title, it's sacrifice, discipline and your leadership skills come into play. They're gonna be locked" – Perkins
"The reality is, not everybody follows the rules. He's right. some people take advantage of openings that they find to behave the way they want to behave. I'm worried too" – Elhassan
"If the teams can't follow the COVID-19 rules, how are we going to expect all of the players to follow the example? I'm with Dame" – Windhorst
Are Blazers dangerous with healthy Nurkic & Collins?
Lillard expects both guys to start for the Blazers once play resumes. Those guys have played a combined total of three games this season
"These two guys are gonna help. It gives them size, it gives them some flexibility. Carmelo Anthony is in a great situation because having better defenders on the floor makes it easier for him to focus on scoring and the things that he does well. But I fear that it may not be enough to have those guys to help them ultimately be successful" – Elhassan
"Adding both guys helps them a lot. But does it put them in position to get that 8th or 9th seed? No. It's different for guards, but for bigs it takes them a while to get back going" – Perkins
"One thing to remember: They don't have to catch anybody at the 8th seed. They just have to get within 4 games [to nab that 8th spot]. That should be their goal" – Windhorst
---
Bucks best positioned to handle a potential setback due to depth?
"No. Although they are deep, every team needs their players. Each guy matters. Each role player helps a championship team win a game or a series. So if any one of those guys that are in the rotation happen to get injured or contract the coronavirus, it can hurt them just like anyone else" – Perkins
"What they have is depth of style of play. When you can play at both ends of the floor, it increases your margin for error" – Windhorst
How much should playoffs impact Giannis' decision to re-sign with Bucks this offseason?
He has repeatedly said winning is the most important thing to him if Milwaukee keeps winning, he will be happy as a Buck
"My feeling is the salary cap will probably stay evaluated. The referendum on the entire concept of the supermax will happen with Giannis. If he signs it, it would work. If he doesn't, it will be a failure and will be thrown out in the next CBA" – Windhorst
"Giannis is saying, 'I'm not saying I want to be a Buck full-time, I want to win.' This is putting pressure on the Milwaukee Bucks an organization that they have to win and get to at least a Finals. It tells me that he is open to leaving. If they don't win or get pieces around him that could help him win, he's not gonna sign that contract. We all know he's very good friends with a lot of the Warriors players, especially Stephen Curry. Also got to watch out for a team like the Miami Heat. They have to take this bubble very seriously" – Perkins
---
AD on Lakers title chances: "If anything, our title chances are higher"
"He's ready for the action. He's well rested. I buy everything he's saying" – Perkins
"When we last left this, I thought the Clippers were the better team, but it was close. The Lakers have lost two rotation players. If Kawhi Leonard and Paul George are healthy and at full power, that's gonna be a hell of a series and that's what I want to see. May the best team win" – Windhorst

Going back to an earlier topic, super producer, Michael Bodmer was able to find footage of Kendrick Perkins being dunked on by Vince Carter (November 29, 2006):
So does he want to take back his Vince Carter poster claim?
"It was a different type of dunk on. I don't recall Vince Carter dunking on me like that" – Perkins