Via "The Last Dance":
Panel:
Guest:
---
Would MJ's tactics with teammates work today?
"Absolutely not. It all depends on who's on that team. Today's league is just too young to take that type of verbal abuse from a guy like MJ" – T-Mac
"If you look at the top four or five teams in the league, they're typically older teams. They're more veteran teams. You can have that type of aggression as a leader with teams like the Lakers or Clippers" – Jefferson
"He never ever got on somebody to do something that he wouldn't do and I think that is the true sign of a leader" – Jefferson
"I wish 'The Last Dance' had came out when I was playing for the Raptors to prepare me for when I reached the level that I reached to be able to challenge my teammates a little bit more. MJ had a plan from the get go" – T-Mac
How did playing baseball impact MJ's legacy?
"It solidified him as the best basketball player of all-time. To take that break and go play baseball, he got a chance to reset his mind. I don't think we get the 'Flu game' or 'Last second shot in Utah' if he had stayed with baseball" – T-Mac
"When he won that three-peat, he was relieved because still even though he respected Magic Johnson and Larry Bird, he wanted to be better than them. Taking that break allowed him to just recalibrate and set new goals" – Jefferson
"I don't know if he had that same motivation going into the 1994 season" – T-Mac
"MJ was on his way to becoming great in the game of baseball and I say that because you get that from one of the greatest managers to coach in baseball in Terry Francona. If he said MJ was on his way, I got to believe him" – T-Mac
---

1980 – The Doctor, Julius Erving with the incredible behind the backboard layup the Lakers in the NBA Finals!

1996 – John Starks with the tough acrobatic layup vs the Bulls!

2007 – Baron Davis posterizing on Andrei Kirilenko!
---
Patrick Ewing's first-grade son, the last time Ewing and MJ were on the phone together:
"He was like, 'Is that Michael Jordan, the guy that's on my shirt?' And I said, 'Yeah. That's him.' He got a huge kick out of that"
How would your career be different without MJ?
"It could have been a lot different. He's been talking trash from the first day that I met him, and he still continues to talk trash, telling me that I have never beaten him when it counts. If I called him, he'll still be talking trash to me" – Ewing
Favorite memory from The Dream Team?
When MJ retired in 1993?
"We both have the same agent [David Falk]. I found out just like everyone else. I was shocked" – Ewing
When Scottie Pippen wasn't on floor during 1994 ECF?
"I was like, 'What's going on?' I saw him sitting at the bench and saw that he was angry. After that, everything was blocked out. I was tunnel vision on trying to stop Toni [Kukoc] from getting a shot and he hit a remarkable shot to win the game" – Ewing
When Jeff Van Gundy grabbed Zo's leg?
Ewing did not play in that game due to injury
"That was the funniest thing that I've ever seen in sports" – Ewing
On his relationship with former Knicks teammate, Charles Oakley: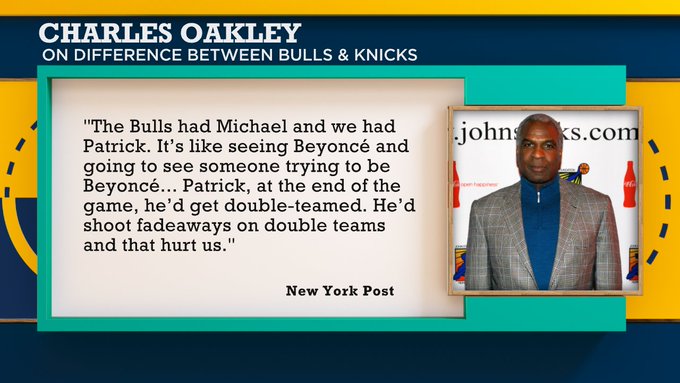 "I have nothing but respect for Charles Oakley. He was one of my greatest teammates. We called him the 'Hit man.' He protect all our backs. So anything happen on the floor, he was always going to be there to protect you. So I have nothing but respect for him. Me passing out of double teams? There were times when maybe I should have. But there were times when I thought that it was my job to try to win the game, so that's what I did. I gave my blood, sweat, and tears to the Knicks, and that's it." – Ewing
On why he feels like Georgetown is a great fit for him (Has been the program's men's hoops head coach since 2017):
"I want to be able to do the same thing that Coach Thompson did for me, coaching all these young players and the next generation" – Ewing
---
Rachel Nichols & Bobby Marks on "The Woj Pod"
---
Shaq: "Any team that wins this year, there's an asterisk"
"As far as a team winning with having an asterisk, do we really stand by that if the Lakers, Bucks or Clippers win a championship? To me, it seems like everybody is on a even playing field because everybody should be healthy and whoever wins is the best team" – T-Mac
"Where is there an asterisk to anything? Let's just get over this whole asterisk thing. There is no asterisk. It doesn't exist. If they can get together, and all things being equal, if these teams can go out there and play, then there is no asterisk. But the season needs to be cancelled for safety, for family and the players. There's no way to guarantee the safety and that's always the most important thing" – Jefferson
"There are different things and different conditions in every title that has been won. This would certainly be one of them. I wouldn't put an asterisk next to it, even if we had them" – Nichols
Did you miss the crowd during UFC 249?
"Props to Dana White and UFC for doing this. This could be a look into the future. But at the end of the day, I know so many people enjoyed this and that's what it's about" – Jefferson
"As much as I appreciate the entertainment, that energy wasn't there because of no crowd participation with the 'ooh' and 'aah.' That's where you get the energy from" – T-Mac