Is anyone more beloved by current players than Kobe?
Top @NBA players + top @NBA trainers + our facility = Improvement #ironsharpensiron #mambaproinvitational pic.twitter.com/iT6rNdPfKK

— Mamba Sports Academy (@MambaSportsHQ) October 3, 2019
Panels:
Amin Elhassan (Second Half Only):
---
First Half
Portion of Rachel's 1-on-1 conversation with Sixers superstar, Joel Embiid!
Full interview airs October 23
---
Who should 76ers run offense through in crunch time?
"The obvious name is Ben Simmons. He reminds me a lot of myself and a lot of Jason Kidd, but more so as to what Giannis has been able to do with the Bucks: A guy that's not intimidated, knowing that he's a poor foul shooter, but he just continues to keep the pressure on your defense night in and night out. You can't allow Ben Simmons not to exist on the offensive end" – Pippen
"Joel Embiid. We don't see a lot of big men who can do what he can do. In this time where the Sixers are at, he is that guy you trust most with the ball when you need a bucket" – Friedell
McCollum adding fuel to Nuggets-Blazers rivalry?
Backstory: When training camp started this week, Nuggets head coach Mike Malone decided to show his team film of the last time they were all together and that was the Game 7 loss to the Blazers in the Western Conference Semifinals
.@CJMcCollum on the Nuggets watching Blazers celebrate on their court last season."Thought it was funny, you gotta use whatever you can as motivation. That's a smart tool by Mike Malone. I would like to watch the celebration again too, maybe I'll watch it tonight" #RipCity pic.twitter.com/NOjiTCoO8Z

— Orlando Sanchez (@orlandokgw) October 2, 2019
Western Conference Finals bound for the first time in 19 years!

MOOD pic.twitter.com/e7JgQZ5t0b

— Portland Trail Blazers (@trailblazers) May 12, 2019
"If I'm CJ McCollum, calm down a little bit. I feel like the Blazers peaked last year. But I don't feel like they can take another step the way they hope they can this season. I love Damian Lillard and CJ McCollum, After that on that team, I'm just not sold on the rest of the roster" – Friedell
"I don't think they've overachieved, I felt like they have underachieved" – Pippen
"I think the Blazers going to be in the mix this year" – Nichols
Shaq dropping another Dame diss track?
Need a refresher? Here you go:
Ok I'm going to practice now… https://t.co/imVsfyCEzt

— Damian Lillard (@Dame_Lillard) October 1, 2019
Then someone on Twitter said:
Don't do it https://t.co/d4CCAMlGkO

— Damian Lillard (@Dame_Lillard) October 3, 2019
"I need to hear them dropping those lyrics" – Pippen
"I do not care! They don't need to go at each other. Let's just see what happens on the floor. I don't need anybody having bad beef in the league on rap tracks" – Friedell
---
Pat Beverley FINALLY admits that it is indeed a…

Should this make Mavs fans irrationally excited?
Luka Doncic ( @luka7doncic ) and Kristaps Porzingis (@kporzee ) had a shooting contest at @dallasmavs practice today .. both of them have swag 🌊😎 pic.twitter.com/5FTKB0CDYe

— Swish Cultures (@swishcultures_) October 2, 2019

Do you wish we saw more two-handed posterizations?
He zipped up the body bag! 😵🔥 #3x3U23 pic.twitter.com/7MOkYQqLRI

— FIBA3x3 (@FIBA3x3) October 2, 2019
"I love the two-handed posterization. Derrick Rose's dunk on Goran Dragic is the best in-game dunk I have ever seen in my entire life. After that dunk in Phoenix, he walked back to the locker room and got a standing ovation from his teammates. That's all they talked about" – Friedell

How excited are you for masked Kyrie?
Has broken his face three times in his career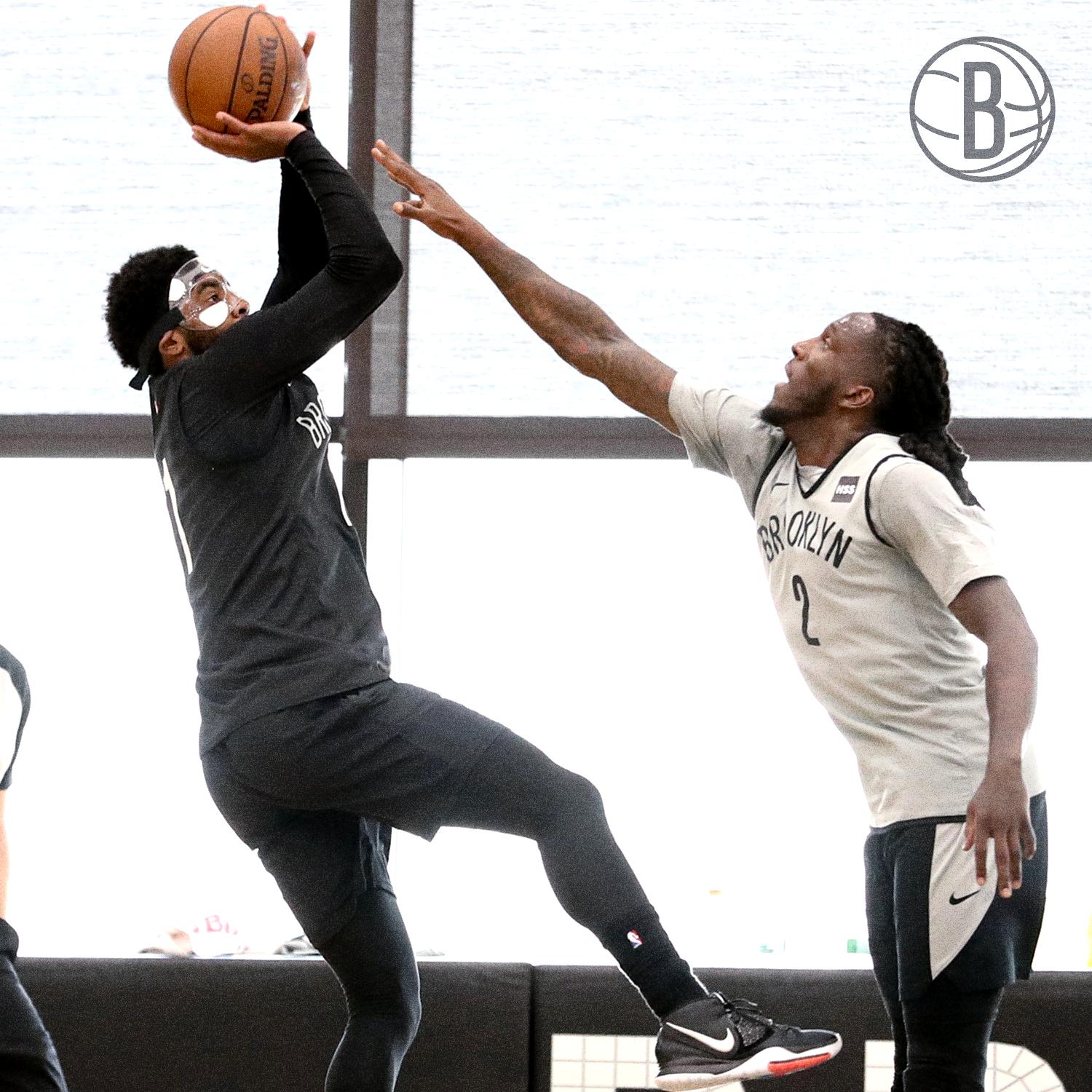 "I like this for Kyrie because I always felt like he was kind of like the [modern] joker of the NBA. He had that edge to him when he needed it. Whatever brings out the best in Kyrie on the court, I'm for it and I think the mask does" – Friedell

Think you could beat the U.S. Ambassador to India in Horse?
The U.S. Mission in India would like to get the ball rolling & welcome the Indiana @Pacers & @SacramentoKings to Mumbai for the first-ever @NBAIndiaGames!

Get ready for some great @NBA games and spectacular shots. #NBAInMyBackyard pic.twitter.com/nc9Vy7Mn38

— Ken Juster (@USAmbIndia) October 1, 2019
"No. Not in my best day" – Pippen
Moving on…
Steph Curry hopes to play 6 more seasons
NBA Champion @StephenCurry30 talks about how and why he got involved with investing at #TCDisrupt pic.twitter.com/R9AENRE4q8

— TechCrunch (@TechCrunch) October 3, 2019
Will we ever see another Steph Curry?
"This is truly a one off, unless he can force his son to go for his records. He's been a game changer. I don't see any players in the league that can really change this landscape unless him and Klay get on separate teams" – Pippen
"He's changed the game forever. There's never going to be another player just like him. There is only one Steph. A lot of NBA teams, the structure of their offense has changed because of the Warriors success led by Steph" – Friedell
---
Second Half
Think Lakers have solved shooting woes?
Had the 2nd worst 3pt shooting team last season (33.3%)
"Their shooting problems are fixed. My bigger issue is defense" – Elhassan
"I don't want to say the shooting is fixed until I see the results. These players have to learn how to play with two of the best players in the game in LeBron and AD" – Pippen
"The defense is what would terrify me looking at their roster" – Friedell
Westbrook on Harden: "Doesn't really matter who scores"
From the cozy confines of @Iolani_Raiders' gym, the @HoustonRockets new superstar Russell Westbrook talks about playing with James Harden again and what it's like being in Hawaii.

He won't be playing tomorrow night against the @LAClippers, though, per coach Mike D'Antoni. pic.twitter.com/P5sijjbzhz

— Brian McInnis (@Brian_McInnis) October 2, 2019
Think Westbrook really doesn't care who scores?
"I totally buy it. The last few seasons in OKC, he's really just been having fun, getting triple doubles, getting other players involved. Now it's about winning for him and an opportunity for him to just change his game to something that's going to facilitate winning" – Pippen
"I'm not buying it completely yet" – Friedell
"He's sincerely wants to win above everything else. The problem that comes is: it's not even numbers, it's involvement" – Elhassan
Tilman Fertitta non-committal on D'Antoni's future
Via ESPN's Now or Never:
D'Antoni returns tor Rockets next season if they __________
"When you listen to him, the Rockets know that D'Antoni is not the long-term guy unless they go and win the Finals this year" – Friedell
"The thing about Mike D'Antoni is he's been a great regular season coach, but when it comes to the postseason, he tends to struggle with making adjustments from game to game, from series to series. Those things have shown bad results in his playoff record" – Pippen
"It's kind of ridiculous for the owner of a team to say he didn't expect this to happen. If Mike is the man for the job, why do you fire his assistants? That doesn't make any sense. His words and his actions say something completely different" – Elhassan
---

Inside the LA Sparks chaotic finish by Ramona Shelburne
---
Backstory:
@WNBA commissioner @CathyEngelbert on @LA_Sparks GM Penny Toler allegedly using a racial slur in a profanity laced tirade. pic.twitter.com/oXTffDtaAC

— Outside The Lines (@OTLonESPN) October 3, 2019
Did Sparks GM Penny Toler cross the line in locker room speech?
Discussion:
---
What should Thunder do with Steven Adams?
The @okcthunder are open to finding a home for Steven Adams. His contract (2 yr and $53 mil) is a hindrance and the Thunder are expected to let him boost his value on the floor before pushing for a trade.
More:https://t.co/wtrbf8dZsp

— Sean Deveney (@SeanDeveney) October 3, 2019
Adams at Media Day chiming in:
Discussion: