LeBron passing MJ more impressive because of unselfishness?
From the visitors locker room at Barclays Center, Richard Jefferson and Channing Frye mockingly congratulated ex-teammate LeBron James tonight on passing Michael Jordan on the all-time scoring list: pic.twitter.com/EV3TSELx0n

— Ian Begley (@IanBegley) March 7, 2019
"In the history of the NBA, to be in the top 10 in both categories is huge. I don't think anybody else will do it at least for a long, long time" – Van Gundy
Today's Panel:
Guests:
ESPN Lakers reporter, Dave McMenamin
Jon "Stugotz" Weiner from "The Dan Le Batard Show with Stugotz"
---
First Half
Monologue: Weirdness in Chicago last night
But it was plenty odd just the same:
After the presumed loss before the teams had to comeback out Jimmy Butler could be heard yelling "We better draw up a better f****** play if we do". Brett Brown was close enough to hear it

— Tony Gill (@tonygill670) March 7, 2019
His explanation:
Otto Porter Jr. says he was "mid-stride" with his drug testing duties so he couldn't return to floor for final 0.5 seconds replay. pic.twitter.com/pO5HA6nAyd

— Cody Westerlund (@CodyWesterlund) March 7, 2019
Otto Porter Jr. effect:
---
How long until Bulls turn it around?
"It'll be a while. I like their three young guys (Markkanen, LaVine and Porter Jr). But I don't trust these late season surges in games that don't mean anything" – Van Gundy
"I like their building blocks, they have some massive holes. Good news is that they got cap flexibility and good pick inventory coming" – Elhassan
"Otto Porter Jr. is what they need. He is a grown-up in that locker room, a good vet and a good influence. They're moving in the right direction, but the question I ask: Does Chicago still have a stigma about it?" – Elhassan
"They've got a decent core of three guys to build around, they're playing pretty hard, but I just got to see it in meaningful games before I'm going to believe it" – Van Gundy
76ers (41-24) wasting opportunity to avoid Celtics in 1st round?
If the playoffs started today, Philly would see Boston in the first round
"With Joel Embiid coming back that they're gonna get by the Pacers and avoid that first round matchup with the Celtics. That one would be real interesting because either team that lost that would really have some problems in terms of perception. I'd love to see it, but I don't think it's going to happen" – Van Gundy
"You can't lose to Chicago. These are the games that can come back and bite you in the you know what" – Elhassan
Feeling Jimmy Butler's "Ninja Style" headband?
Pelicans guard, Jrue Holiday has been doing it as well
"You got to stop this. This is not Karate Kid 2. We can't have this. It looks ridiculous. It's not even ergonomic" – Elhassan
"I'm the last person that such comment on style. I don't like the look" – Van Gundy
---

March 7, 1993 – Tim Hardaway Sr. with the crossover and the spin move and finishing with the floater vs the Rockets!
---

Pizzazz; Better move?
D-Loading with the "shammgod"
Ish Smith

Van Gundy: Ish Smith
Elhassan: D-Loading's "shammgod"

Boredom; Should all teams strive to be like Nets?

Saving time; Should LeBron start a dog walking service?
"This is a Cancun play" – Elhassan

Hang Time; Poor Moe Wagner…
Let's…
Funniest dunk fails of all-time!
Honorable mention: Melo vs Blazers in 2016
3. Bargnani vs 76ers in 2014
2. Von Wafer vs Wizards in 2011
1. Tyrus Thomas vs Kings in 2007
Moving on…
Buy this Taj Gibson elbow (on Drummond) was an accident?
"It was accidental. He mean't to hit him, but I don't think he meant to hit him above the head" – Van Gundy
"He's (Gibson) trying to get in position and trying to initiate the contact. It's an unfortunate play" – Elhassan
---
Second Half
LeBron passing MJ as a Laker make it better or worse?
"If he did in this in 2016, in front of the home (Cavs) fans around some of his teammates, who are his good friends, it would have been a better moment. This is a career accomplishment" – McMenamin
"It is an accomplishment that makes everybody pause about what they've been through in their life. I walked out of the arena with Ohm Youngmisuk (ESPN) and we were talking about the Michael Jordan posters we had on our walls as kids. He tapped into that young fandom that got us all excited about the game" – McMenamin
"It's a great accomplishment, but I wish it would have come in Cleveland and he had gotten a better response. But it doesn't take away from what he's done in his career" – Van Gundy
"If the Lakers were in the 4 seed right now and they were rocking and rolling, he would have gotten a huge ovation. A lot of it is not because he didn't score them a Laker, it's because it's a reflection of the disappointment Lakers fans have about the season they've had" – Elhassan
"His teammates were lukewarm to the whole thing" – Van Gundy
Will Lakers fans enjoy eventually seeing LeBron pass Kobe?
"He would be passing the most popular player on the planet in Kobe Bryant. If they continue to lose, it's going to be an ugly moment" – McMenamin
"I hope he passes him on the road, be great if it could be in Cleveland" – Van Gundy
"The idea that in the midst of this lack of success for LeBron that he would be celebrated and cherished as better than the supreme leader would be outrage blasphemy" – Elhassan
Rondo sitting away from team a bad look?
Rondo spoke with Magic & Pelinka, will avoid fine (Per Dave McMenamin/ESPN)
Last night: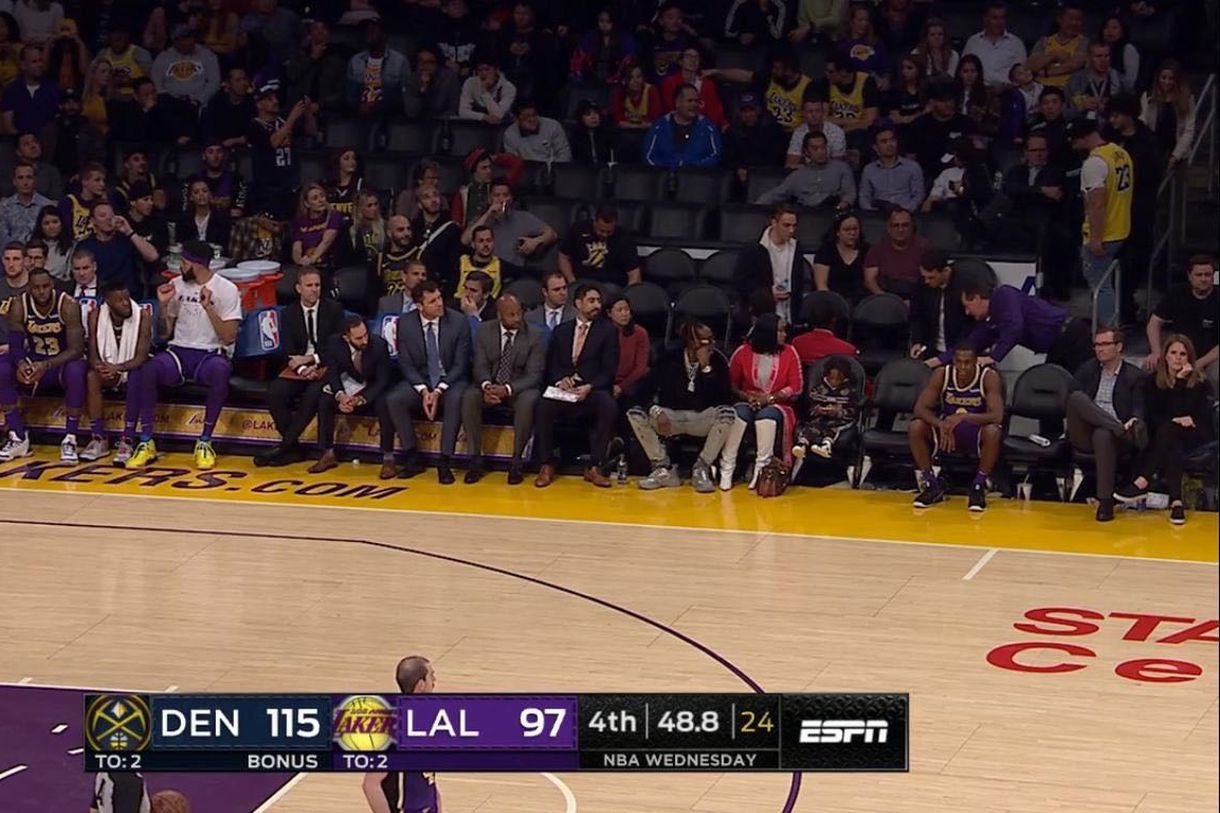 Last month:
Sheesh pic.twitter.com/RNUaIuQjfl

— Michael Lee (@MrMichaelLee) February 6, 2019
"That's a bad look. I read his comments where he said he's done it before. That doesn't make it better, that makes it worse. We've seen that from him and LeBron" – Van Gundy
"As a coach, you have to do something about it" – Van Gundy
"He met with Magic and Rob. It's against NBA rules to do that. He accepted that it was a bad look. He was in his own head at the moment. It's a little overblown here" – McMenamin
"You have to be aware as a leader on how that looks. You can't just let it go. It matters" – Van Gundy
"It's not a good look. He knows the context of what this team is going through right now" – Elhassan
---
What keeps NBA Commissioner, Adam Silver up at night by Brian Windhorst
---
Heat playoff push
8th spot in the East (As of 3/7); 10th easiest schedule the rest of the way (Per BPI)
Stugotz: "Something from the standpoint that Heat fans want to see Dwyane Wade play a few extra games and nothing for that they will do nothing in the playoffs"
Van Gundy: "I don't see them making it"
Elhassan: Something
"They want to extend this. This is what they do"
Gordon Hayward's Game-Winner
Click here to read about Gordon Hayward by Jackie MacMullan (ESPN)
Van Gundy: Something
"Hopefully, it builds his confidence a little. But I got to see more of this for it to be everything"
Stugotz: Everything
"If he remains healthy and continues to improve, it gives them one more weapon. They're the a team that could beat the Warriors in the NBA Finals"
Elhassan: "These are the moments he needs to build up that confidence"
KD to Knicks rumors
Stugotz: "Everything if he goes to the Knicks and nothing if he goes anywhere else. He ruined the balance of the NBA"
Van Gundy: Nothing
"They got to chase more than KD. I don't care about the rumors. I care about the reality"
"I don't think they're going to win it this year. Whoever comes out of the East is going to win it. Their habits aren't good. This is the year somebody is going to take them down"
His pick to win it all this year against the Warriors: Milwaukee Bucks
---

March 7, 1997 – Ron Harper with the no-look pass to Scottie Pippen who throws it down hard on the Pacers!
---
Suns heating up
How excited should Suns fans be about 3-game win streak?
Have won 4 of their last 5 games
"My stance is whenever you have a young team that starts to play better and win games, it's never a bad thing" – Elhassan
More confident in Thunder (39-25) or Blazers (39-25) tonight?
"Trail Blazers" – Van Gundy
"Trail Blazers" – Elhassan
---

Should Warriors care about seeding?
Kerr "It's time for us to turn it up and lock in." Says goal remains to clinch homecourt advantage.

— Nick Friedell (@NickFriedell) March 7, 2019
"Absolutely" – Van Gundy