Opener:
Today's crew/guests:
First time All-Star, Khris Middleton of the Bucks at the beginning of the show
The Captain is back!
From the Brooklyn Nets:
Center, Jarrett Allen:

Sixth Man of the Year candidate/Point Guard Spencer Dinwiddie:

North Carolina Tar Heel/former NBA player & champion Rasheed Wallace: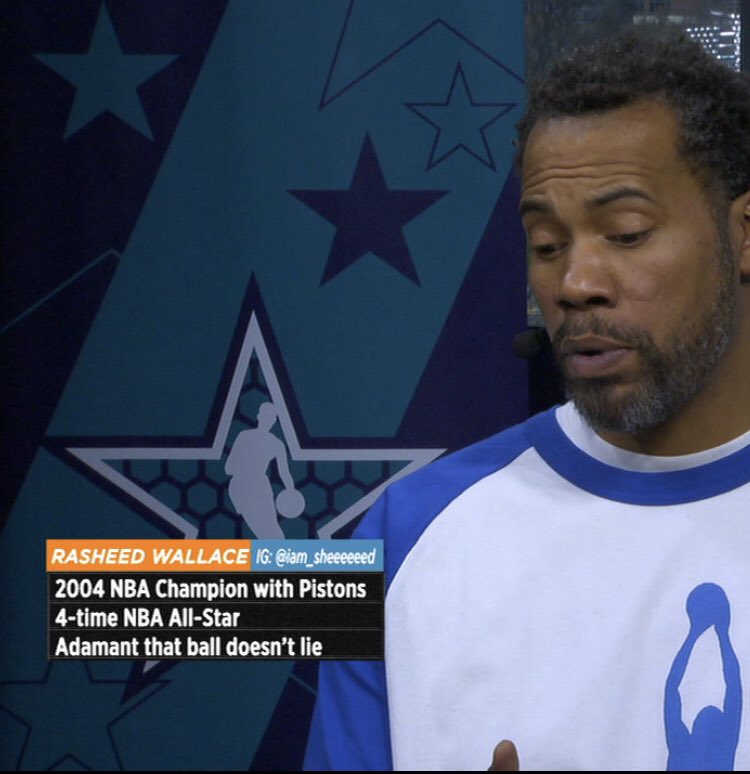 ---
First Half
Green: "So long as our chemistry is great, no one can beat us, for real"
"In a way, he's right. You got to have your confidence on the team. As opposing players, we're not going to listen to that" – Middleton
Are Bucks biggest Eastern Conference threat to Warriors?
"We're trying not to get too far ahead of ourselves. That first step is winning one playoff series" – Middleton
"They're a very deep team. But it's really about Giannis. He's sort of taken a role this season to be the most dominant in the game since Shaquille O'Neal" – Pippen
"We know we match up well with those guys. We have a lot of size, length and play different styles of basketball. We have a chance against those guys" – Middleton
"It's been great. He's a character in the locker room. We definitely going to need him" – Middleton on his new teammate Nikola Mirotic
Confident in future with Giannis?
Middleton will be an unrestricted free agent this summer
"Since I've been here, since Giannis has been in Milwaukee, we literally started from the bottom and worked our way up. We're building something special" – Middleton
"For sure. Anybody that can help" – Middleton on recruiting players to Milwaukee
"For me, it's all about the right situation. Right now, Milwaukee has done everything for me" – Middleton on his upcoming free agency
---

1991 – Patrick Ewing with the nasty one-handed dunk in the 1991 All-Star Game…also in Charlotte!!!
---
Did Steve Kerr get too heated last night?
"He was trying to get tossed there. The important thing is him fighting for Draymond. There's a message in that to the team, about their spirit, their fight, where they want to go. To me, that looked like a common foul" – Thibs
"Steve is a player and a coach. He understands that call wasn't made off the foul. You're judging Draymond as a bad player" – Jackson
"He did a good job because Draymond is getting a bad rap" – Jackson
"I thought the officials made a great call based on how the game was going. Draymond sort of made a deliberate blow to make sure 'I'm going to hit you hard'" – Pippen
Harden's scoring streak make him the MVP?
Has 31 consecutive games with at least 30 or more points
"It's attractive. But, it doesn't look like he's focused on winning. The team is focused on winning" – Jackson
"I don't think this type of basketball that we're watching is playoff basketball. It's not even attractive basketball" – Pippen
"It's probably not championship basketball. But I'd say the biggest concern would have to be the drop that Houston's has had defensively this year. The defense has to improve. We want to see how the MVPs impact their team throughout the course of the season" – Thibs
He's putting them in position to win. It's a challenge" – Thibs
---
Second Half

Dismissals; Think Ben Simmons will get dunked on in the All-Star Game?
Last night:

Tuesday


Complacency; Spicy P (Pascal Siakam) drops career-high 44 in win vs Wizards
"He's one of the up and coming four men in the league and he gives the Raptors a ton of versatile" – Dinwiddie
"One of the most improved players so far" – Allen

Close Calls; Which Regina King movie do you think is Joel Embiid's favorite?

Grudges; D-Wade reenacts 2006 Finals moment in Dallas
Nowitzki and Wade exchanging jerseys after the game:
Wade said afterward that he didn't know if Dirk would say yes to a jersey exchange because their was so much crosstalk between them from the 2006 and 2011 Finals
Moving on…
Nets deserve more respect?
"You need to pay attention to us. Were up and coming" – Allen
"We have an All-Star PG [Russell] and a future top 5 center in the NBA with an amazing afro" – Dinwiddie
Allen's most notable blocks on these players:
"Jump for everything because either way, you're going to be on the highlight" – Allen
What changed for D'Angelo Russell in Brooklyn?
"He's doing a great job with his pace, being able to understand the game and doing what it takes for our team to win. And obviously with the way he's been shooting the three ball, it's made his game extremely efficient" – Dinwiddie
"He was treated a little bit unfairly by the Lakers. You draft a kid, a one-and-done kid, out of college, you have to give them time to develop and he showed a little bit of immaturity and the Lakers wanted someone that was more developed. If you're going to do that, you should draft that way" – Pippen
"We're definitely coming for that top 4 seed. That's the name of the game" – Allen
---
Could have been 8 times, but in 2008-09, Stephen Jackson led the league in techs! Wallace was second in that category

Think LeBron regrets decision to join Lakers?
Per ESPN's BPI, the Lakers have a 7 percent chance to make the playoffs; have the 4th hardest schedule after the All-Star break
"No. I don't think so. His whole move to LA was based off of what he's going to do after basketball. He wants to be involved with TV and movies. His value has changed" – Wallace
"It's not going the way he hoped. He expected the team to be different [by the trade deadline]" – Jackson
"LeBron's move to LA was definitely post season move. This is something that he realizes that, 'If I don't get a free agent this summer, then it was a bad move'" – Pippen
"LeBron has done the impossible a number of times. If anybody can do it, he can do it. But, it's going to be hard" – Jackson
Biggest regret vs Lakers in 2000 WCF?
Game 7; Blazers were up 15 points entering the 4th quarter
"If we would have made just one or two of those 13 straight shots we missed. It could have been different. To be honest, I don't regret it because it made me better as a ball player and person" – Wallace
"It was our first year. Just somehow down the stretch of that game, our chemistry fell apart. We were always an unselfish team. It hurt us at a moment when we didn't want to have to deal with it. Had I known my teammates better, I would have been a different leader in that situation" – Pippen
---

1991 – Rex Chapman of the hometown Hornets throwing the ball from behind his back and finishing the reverse dunk in the 1991 All-Star Dunk Contest in Charlotte!
---
Giannis who?
Every team except the Knicks scouted Giannis? (Via Finding Giannis/TNT)
No Chill Gil
Gilbert Arenas to join The Big 3 this summer
Westbrook have the right attitude about critics?
He has the luxury of not caring at this point in his life
Via Erik Horne/The Oklahoman:
"At the end of the day, I understand what he's saying. He loves the game. Anything else, it doesn't matter" – Jackson
"I don't like the way guys chase stats now" – Pippen who said on last Friday's show that Westbrook is "stat-hunting"