Zion somehow even better than advertised?
Shooting 82% from the floor! | Lord Zion!
Today's Panel:
Rachel Nichols (Host)

Front Office Insider, Amin Elhassan
---
First Half
Monologue: Bays of Our Lives! (A New Jump TV Show!)
Credit goes to The Athletic's Jon Krawczynski for the new show name!
Draymond Green addressing the media regarding his clash with KD:
Could that indicate that this might be the final season for this roster?
Steph Curry attended the road trip, still not cleared to play
Buy Draymond saying rift with KD makes Warriors stronger?
"I didn't really like how he came out with it. He said: 'Me and Kevin spoke.' I think it's a little deeper than just speaking to Kevin Durant on your way to practice. They have to sit down and talk and work this out and make sure that they can continue to work together and be in the same locker room. Be able to communicate on the basketball court. Something positive has to come out of this" – Pippen
"This was something that had been building in little pokes and jabs over weeks and we just happen to see the final explosion before our very eyes. In terms of them fixing things, it goes deeper than 'we disagreed about what happened at the end of a game'" – Elhassan
"One of the things that Draymond seemed to be upset with is not just the 'flirting, Kevin Durant you have to put this to bed, you haven't committed the way the rest of us have to saying we want to be here long-term'" – Nichols
"Everything sort of got caught out of character because he didn't leave it on the floor. He took it to the bench. The adrenaline is running, guys are talking and speaking insane things that they really don't mean and I think that's what happened in this situation. You're going to see them get over this, something that can push them to play better. They're basically bored" – Pippen
Warriors dynasty in trouble?
"This is one of those situations where players have to look beyond any situation. This is not a situation that they can look ahead. They have to work out their own internal affairs. Right now, this could cost them a championship" – Pippen
---

November 15, 2000 – Latrell Sprewell (Knicks) with the sit down shot vs the Clippers!
---

Confidence; This outfit by Jordan Clarkson is __________?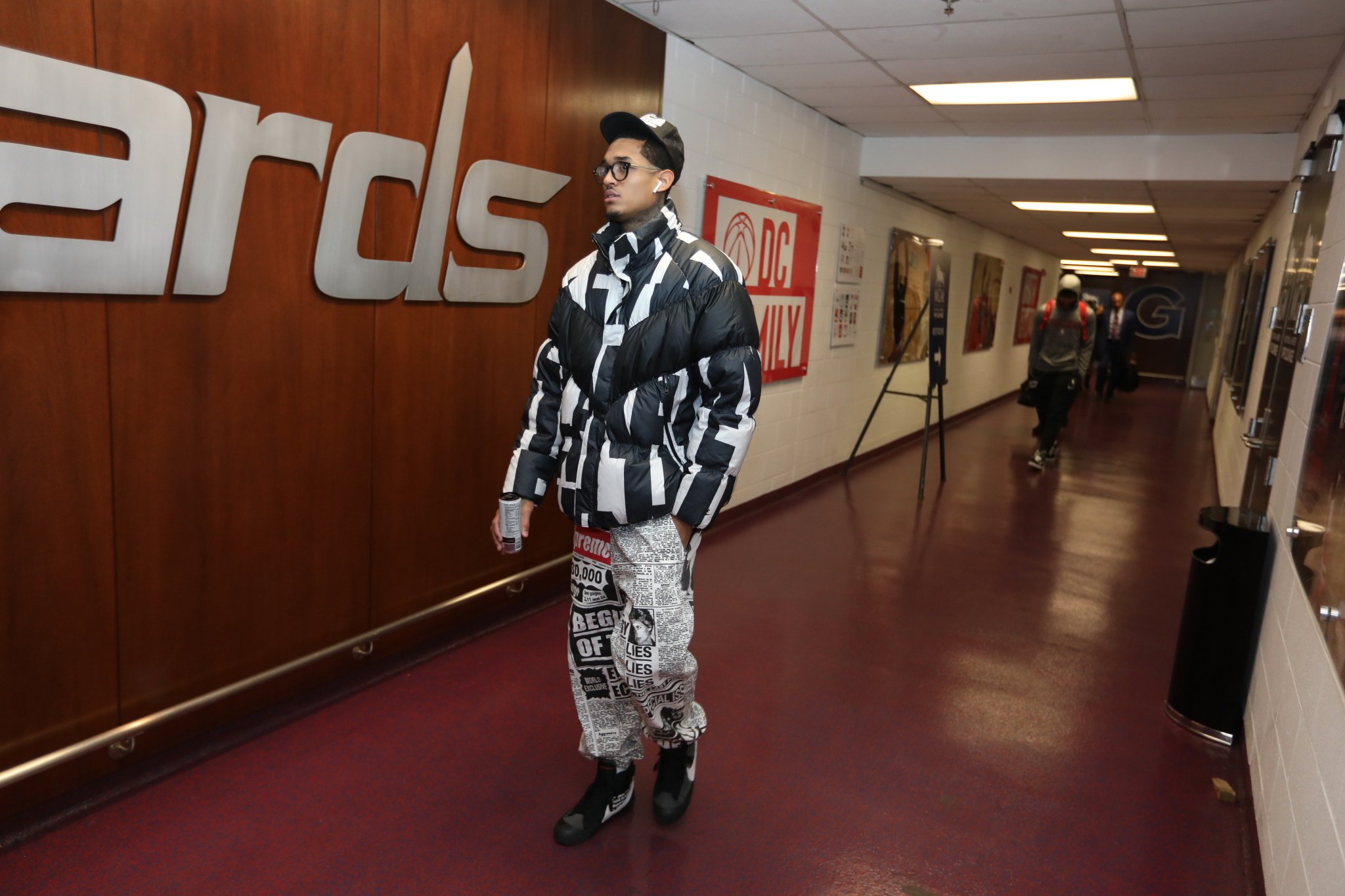 Elhassan: "Blah"

Finishes; Credit the rim or Jonathan Isaac for the block?

Youth; How good is Mavs young core?
Mavs beat the Jazz by fiddy! 50!

Highlights; Maybe try laying it up next time?

Insult to Injury; Does it get more disrespectful than this?
Let's…
Most memorable kicks of all-time:
3) Draymond Green on Steven Adams in 2016 playoffs
2) Tony Allen on Chris Paul in 2013

1) Bruce Bowen on Wally Szczerbiak in 2002
Moving on…
Biggest takeaway from Jimmy Butler's Sixers debut?
Butler was scoreless in the 4th quarter
"It was a great first game for him. He felt good. They're the team to beat. Defense wins championships. It stabilizes their defense. They have size and length" – Pippen
"They'll be great defensively. But they don't have enough shooting. They need shooting" – Elhassan
---
Second Half
ESPN Lakers Reporter, Dave McMenamin joined the show!
What's changed for Lakers during 4-game win streak?
"Tyson Chandler has helped Luke Walton be able to have a steady rotation. They've beaten not-so-good teams and have built their confidence up" – McMenamin
"Tyson Chandler definitely has came in and anchored them on the defensive for them, built their confidence. But let's not forget: that this a honeymoons stage for the Lakers and Chandler. You have to see the competition that they are playing against" – Pippen
"Their poor start, there were a lot of one possession games in those losses. Those are games that could have gone either way. We're seeing them win close games" – Elhassan
LeBron getting enough foul calls?
"It was him (From Chandler's quote) basically saying: If the coaches respect him, the players respect him, why aren't the refs respecting the same way? This is the fatigue of LeBron" – McMenamin
"In defense for LeBron, he doesn't get a lot of calls that he deserves. But, he initiates a lot of the contact" – Pippen
"When you got a guy that big and fast, it's really hard from a human element for refs to perceive: 'Oh. He got fouled right there'" – Elhassan
Source: Rajon Rondo out 3-5 weeks (Broken Hand) (Per Woj)
"He generally has a reputation of being a quick healer" – McMenamin
"The thing about him being out is a blessing in disguise. It gives Lonzo Ball an opportunity to be more aggressive. This team plays better when he's more assertive out there" – Elhassan
"This is Lonzo Ball's time. This is an opportunity for him to break out because he has to try to find his way to fit in with LeBron and that's important" – Pippen
"He's (Lonzo Ball) a much better defender than Rondo. The reps will help him because he hasn't play in these type of pressure games" – McMenamin

NBA promotes 5 G-League officials
"Diversity of thought is important. It's bringing people up who can bring different perspectives to the game" – Nichols
---
Draymond Green expected to appeal $120k fine (1 game check); Per Marc J. Spears of The Undefeated
Pippen: Everything
"That's a Ferrari sitting out there! You got to go get it!"
Elhassan: Everything
"In essence, it's saying: 'I didn't deserve to get fined for this'"
Dwane Casey's reaction to buzzer-beater
Pistons overcame a 19-point deficit to beat the Raptors
Pippen: Nothing
"It's early in the season. This game is not going to mean anything to them a month from now"
He also added:
"They (Raptors) shouldn't have fired him. He was the coach of the year"
Elhassan: Something
"Classy reception he got from the crowd. It's a feel good story"
He also added:
"It's also something: Toronto might be the 1 seed and Detroit might be the 8 seed"
Wolves 2-0 after Jimmy Butler trade
Pippen: Something
"He (Towns) has to show his consistency throughout the season night in and night out. They have to anchor the offense through him"
Elhassan: Something
"You got rid of that conversation from the locker room. Him (Butler) staying in that locker room was a diversion and distraction because of the things he said and the way those young guys felt"
He also added:
"It's not everything because they got to do this every night now. You got to prove that Jimmy was bringing you down and it's not nothing because they're moving on"
Grizzlies handing Bucks 1st home loss
Elhassan: Everything
"People thought they were a 'bad' team. They were bad because Mike Conley was hurt. I want to talk about Kyle Anderson and Garrett Temple. These are the kind of guys when talking about winning games, these are the type of role players you need to win games. And Jaren Jackson Jr., one of my favorite draft picks from this past draft, is growing right before our very eyes"
Pippen: Everything
"They are showing that they're the team we've seen when they have Conley on the basketball court. For the Bucks, you have to defend your homecourt. You have to play better at home"
---

November 15, 2000 – Ray Allen with the game tying dunk vs the Pacers!
---
Remembering iconic 1990s Bulls introductions (Via The Ringer)
"No I didn't. I had never seen that introduction before" – Pippen on whether he knew it was going to be iconic or not
"We felt that introduction was an intimidating factor" – Pippen
"The Suns were doing this (intro) in the 80s" – Elhassan
Scottie followed that up with: "It fits better with the Bulls. It fits better with winning"
Expect Rockets to capitalize on Warriors drama?
"This is going to play well for Golden State. They are going to have more fuel to feed off of this than what Houston is going to have because they got their own issues" – Pippen
"Draymond Green coming off a suspsension…usually plays his tail off. He's going to be out there to prove a point. I expect him to play really well tonight" – Elhassan
"This is going to get his (Green) adrenaline going" – Pippen
Curry's injury make Warriors vulnerable on Texas road trip?
"You're talking about a team with four all-stars. They afford at least to lose one. It's still early. Losing Steph now not only to give him time to rest, it gives them to figure out some other pieces on their team like DeMarcus Cousins, how he's going to play his role, how they see him playing" – Pippen
"Are they more vulnerable? I guess" – Elhassan